Join us for a celebration throughout 2022, as this year marks both The Poppy Factory's centenary and The Queen's Platinum Jubilee.
The expert hosts at our visitor centre create a tailored experience for all visitors. 
To mark the Queen's Platinum Jubilee, guests who visit this summer

will receive a free limited edition postcard of The Queen's visit in 1946.
Book your summer visit now. Please click the button below to see available time slots and booking details.
Book tickets for a group of 25+
Book tickets for small groups and individual visitors
Visit us this summer holiday
If you're looking for something to do with the kids this summer look no further. We offer an exciting treasure hunt around our visitor centre showcasing our 100 year history, plus the opportunity to buy fresh cake and refreshments during your visit.
The Poppy Factory has been an integral part of Richmond since the 1920s. Today we still make Remembrance products in our factory, and we also support veterans into all kinds of employment across England and Wales.
Discover the home of Remembrance poppies and wreaths at our all-new visitor centre.

See how veterans still make Royal and regimental wreaths by hand today and have a go at making your own poppy!

Enjoy a private group visit with insight from your expert host.

Book ahead to try our delicious Factory Tea Break served by our veteran baristas, with fresh cakes made by our in-house bakers 7Marvels.

Younger visitors can enjoy our fun and educational exhibition treasure hunt.
Discover the personal legacy of the Falklands War, 40 years on, in our expanded centenary exhibition.
The display features former soldier Paul, who we supported back into employment after he struggled with PTSD.
"A big thank you for making us so welcome. Everybody had a very enjoyable experience so much so we would like a return visit!"
Chapter 1066 Harley Davidson Group, September 2021
"We had a wonderful visit to The Poppy Factory and learnt about the fascinating history and great work undertaken by them!"
Company of Nurses, November 2021
"Thank you for arranging our tour so efficiently yesterday.  We all, without exception, enjoyed it enormously and I have had several thank you letters from our group.  Please also thank Geoff for his engaging talk - we all learned a lot and were surprised how little we knew, very interesting."
Knowle U3A, November 2021
"AMAZING visit, thoroughly enjoyed it, thank you. A must do recommendation for all my family and friends visiting Richmond. Wish you and the team all the best for the new visitor centre."
Open day visitor, December 2021
Join us in supporting the ex-Forces community. By visiting and sharing our story, you'll help them change their lives for the better.
If you are a tour operator or are interested in bulk booking, please get in touch directly through visit@poppyfactory.org.
To ask about a group booking for 25-50 people, please email visit@poppyfactory.org. For our full terms and conditions, click here.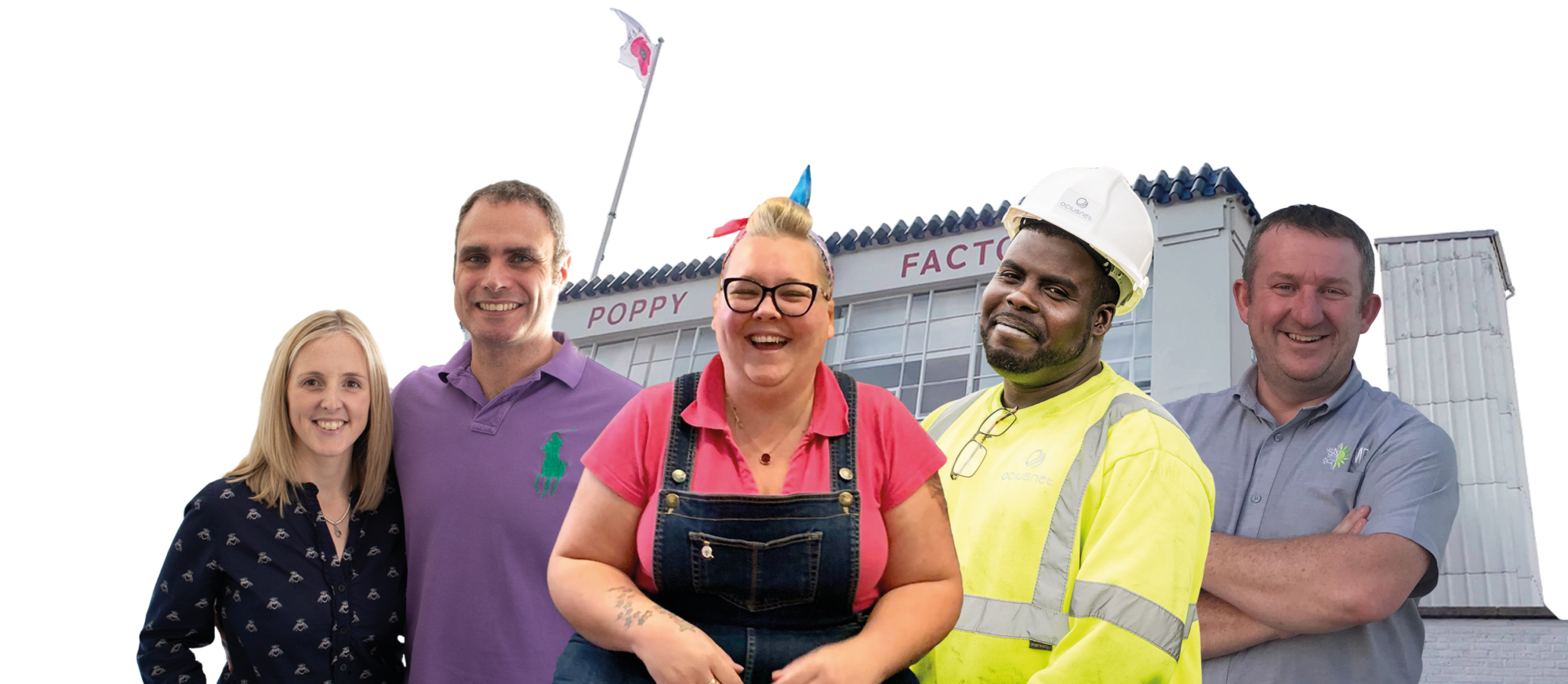 How to find us
The Poppy Factory is a 15 minute walk from Richmond train station. You can also catch the 65 bus from Richmond station to the Compass Hill stop, which is outside our visitor centre.
Our entrance is a sharp turn on Petersham Road, opposite a colourful poppy pedestrian crossing, a few hundred yards from Richmond Bridge.
We are unable to offer parking for individual cars or coaches but passengers can be set down by the coach at the entrance to our car park on arrival and collected after their visit.
Pay and display coach and car parking facilities are available at The Old Deer Park, Richmond (TW9 2RA), around 15 minutes' walk from the factory and accessible from the A316. There are also NCP car parks available in Richmond town centre, around 10 minutes' walk.
Frequently asked questions